CITROEN
DISPATCH
Dispatch BlueHDi100 S&S 6 speed manual M 1000 Enterprise
NEW 69 PLATE OFFER
**Contract Hire***
36 months
Duration of Contract
£225.00
Followed by 35 Payments of
Finance Terms & Conditions
Promotion available on new CITROEN DISPATCH models. Deposit Contribution only available in conjunction with FCA Financial Services. With FCA Financial Services you have the option to return the vehicle and not pay the final payment, subject to the vehicle not having exceeded an agreed annual mileage (a charge of 6p per mile for exceeding 0 miles per annum in this example) and being in good condition. Finance subject to status. Guarantees may be required. Terms and Conditions apply. We work with a number of creditors including FCA Financial Services. PO Box 4465, Slough, SL1 0RW.
Offer Details
for the CITROEN DISPATCH Dispatch BlueHDi100 S&S 6 speed manual M 1000 Enterprise
New Dispatch Enterprise BHDi 100 M 1000 Size Van
The all new dispatch offers a brand new look and with it a brand new designed interior with class leading equipment and loading capacity the new dispatch doesn't disappoint.
Standard Specification includes.
Moduwork® configurable passenger bench with load-through bulkhead
Heated, electrically adjustable door mirrors
Air conditioning
Rear parking sensors
Alarm
Connect Radio: 7 inch touchscreen with DAB,
Bluetooth, USB, audio jack and Mirror Link
Load Length 3674
Fits 3 Euro Pallets
Load Height 1397
For further details contact our commercial vehicle team on 01923 281591 for a tailored quotation..
(All vehicles subject to £199 admin fee - Prices exclude VAT)
CITROEN DISPATCH Details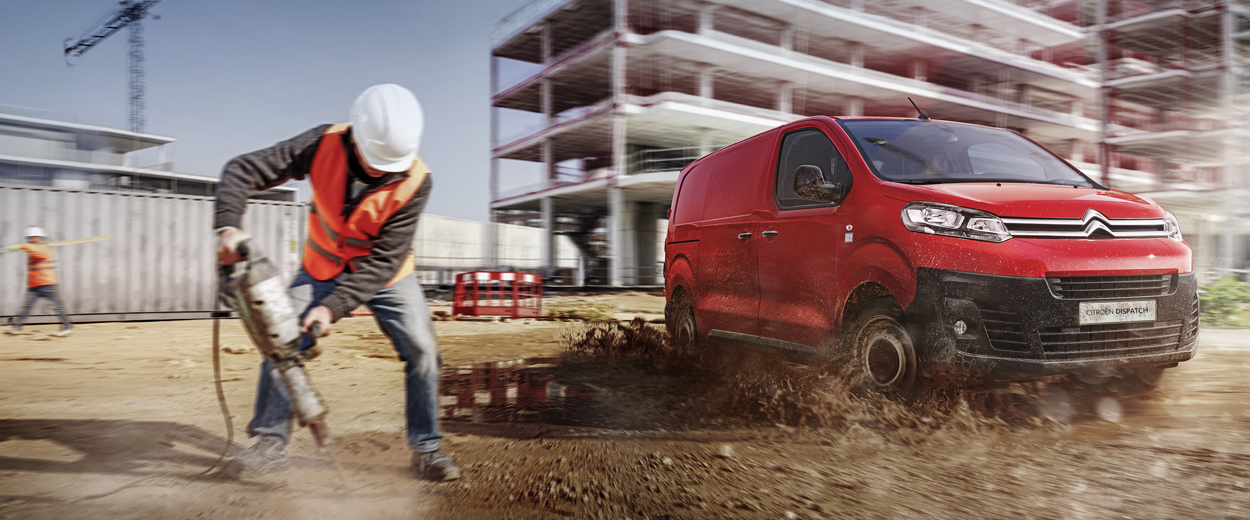 This generation Citroën Dispatch has an architecture optimised to be even more convenient, comfortable and safe. It incorporates the latest generations of driving aid technologies and engines, providing Unlimited Possibilities for you and your business. Available in 3 lengths, it comes with:
• Optional hands-free sliding side doors
• Up to 1400 kg payload
• Up to 6.6 m3 of useful volume
• Up to 4 m useful length
• 1.25 m width between wheel arches
PRACTICAL ARCHITECTURE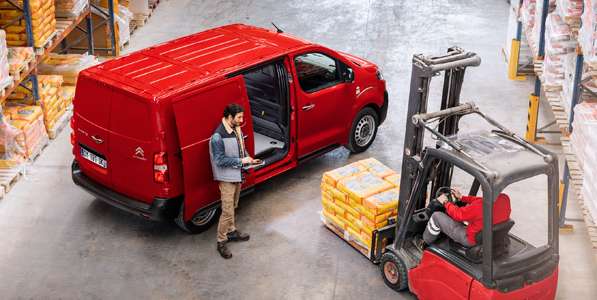 The efficient architecture of Citroën Dispatch is designed to adapt to all your needs, and is functional, practical and ergonomic. Its specifically reinforced new generation modular platform is based on C4 SpaceTourer and SpaceTourer.
It can carry up to 1400 kg in payload, 6.6 m3 in volume, with 4 m working length, and can pull up to 2.5 tonnes of trailer. Its modular design also has two wheel-base values (2.92 m and 3.27 m) and two rear overhangs (0.80 m and 1.15 m) combined for 3 different lengths.
3 LENGTHS AND VERSATILITY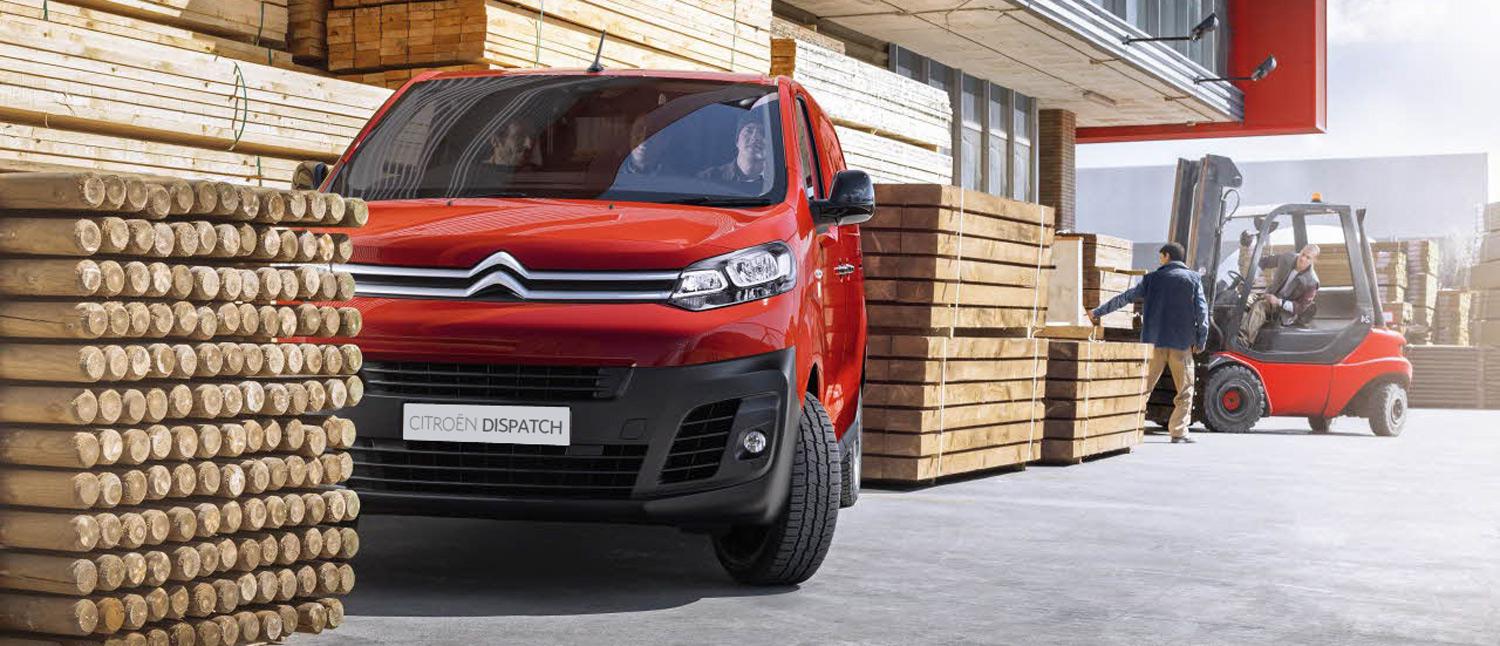 Citroën Dispatch is available in 3 lengths. In addition to two lengths M (4.95 m) and XL (5.30 m), this van is also available in a new 4.60 m version, both compact and practical.
As with the other two lengths, M and XL, the XS can also carry a payload of up to 1400 kg.
1.90 M UNDER THE BAR: ACCESS TO MORE CAR PARKS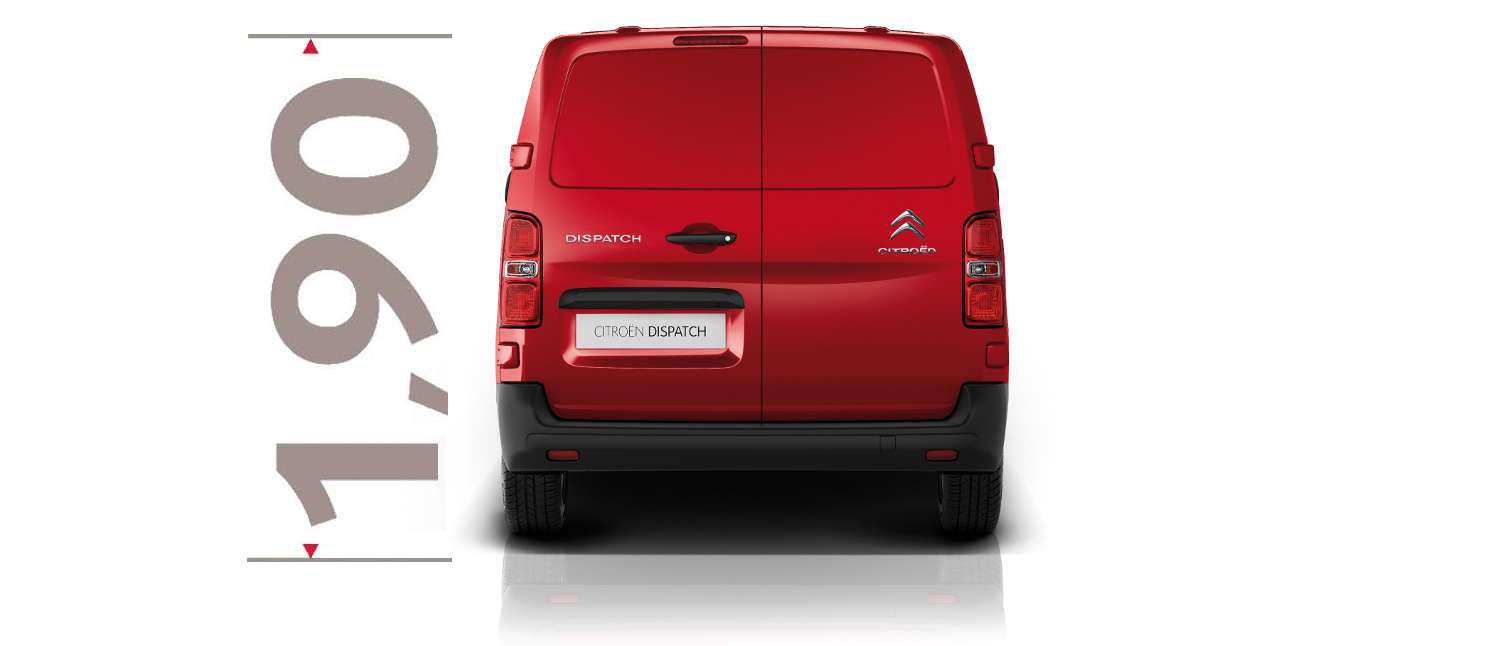 For all situations! Thanks to its height limited to 1.90 m on all XS and M versions (1.94 m on the XL version), Citroën Dispatch can easily enter all the car parks that are usually difficult to access for vehicles of this type.
It is no longer necessary to double park and risk fines, you can now reach the underground spot provided by your client as well as all shopping centre parking lots.
DRIVING COMFORT: ERGONOMICS REVISITED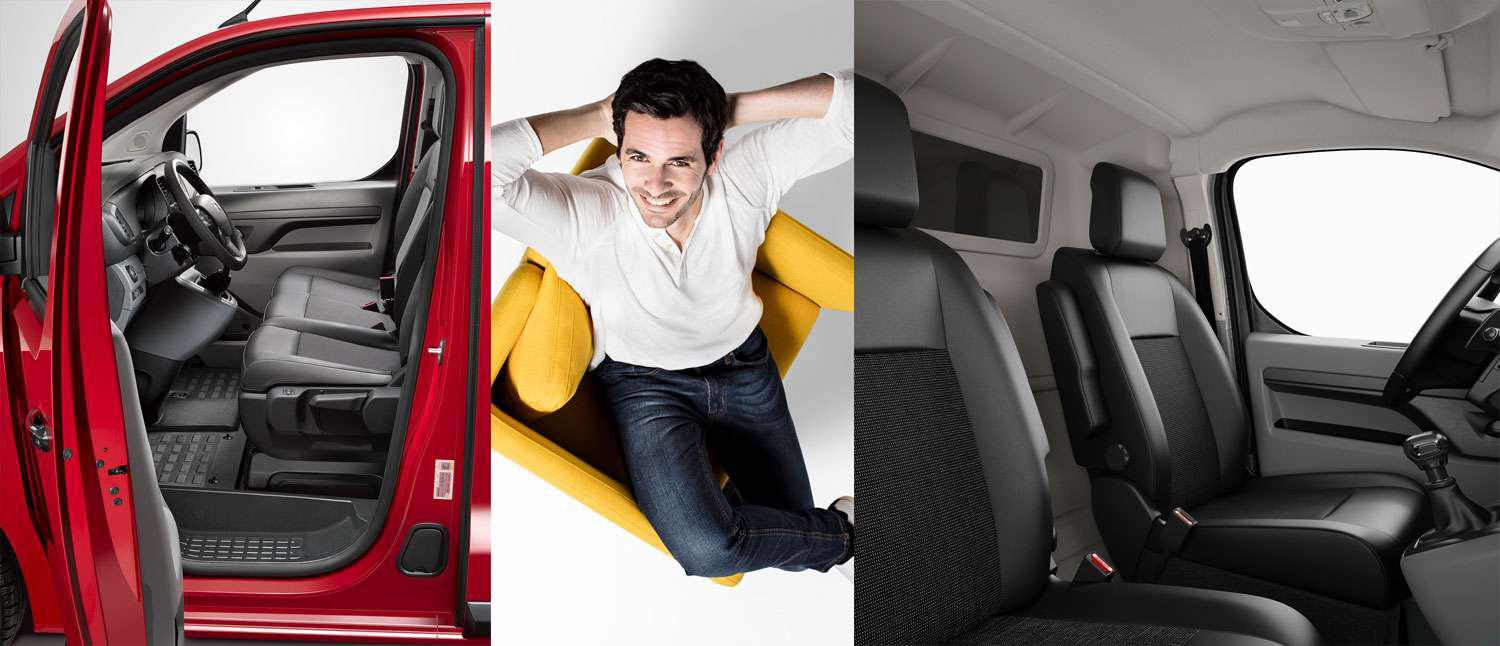 The front seats of Citroën Dispatch have been ergonomically designed: the high driving position makes you feel like you dominate the road. The driving posture is even more comfortable as the seats are adjustable for height and legroom.
A step gives easy access to the cabin. The glazed comfort partition* guarantees the passengers optimum thermal and acoustic insulation and offers greater comfort for the driver. All of these features make a big difference on frequent journeys.
* According to version
HANDS-FREE SLIDING SIDE DOORS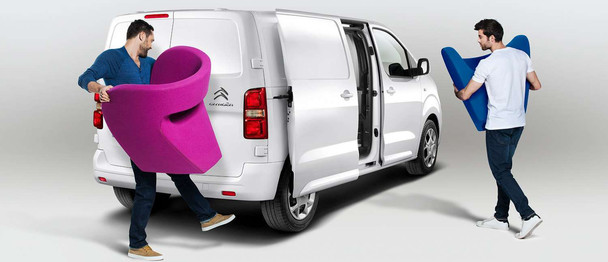 Hands are full? No problem: the Hands-Free Sliding Side Doors* functions allows you to open and close the side doors without contact, a feature unique in this segment. With a simple pass of the foot under the corner of the rear bumper, the vehicle unlocks and the sliding door on the side where you are opens automatically.
The same movement activates the closing of the door and locks the vehicle when you move away. This feature will simplify loading and unloading when you have both hands full.
*According to version
FULLY QUALIFIED FOR YOUR PROFESSION!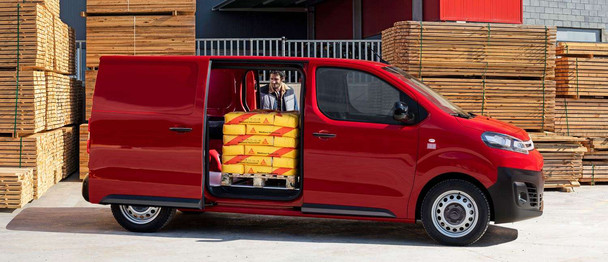 Citroën Dispatch is the ideal partner for professionals searching for a tool that simplifies their everyday lives. Clever, modern and functional, Citroën Dispatch is aimed at a wide range of professionals. Whether you are a tradesman, crafstman, courier, in the construction sector or in the service industry, there is a Dispatch for you!
CREW CABS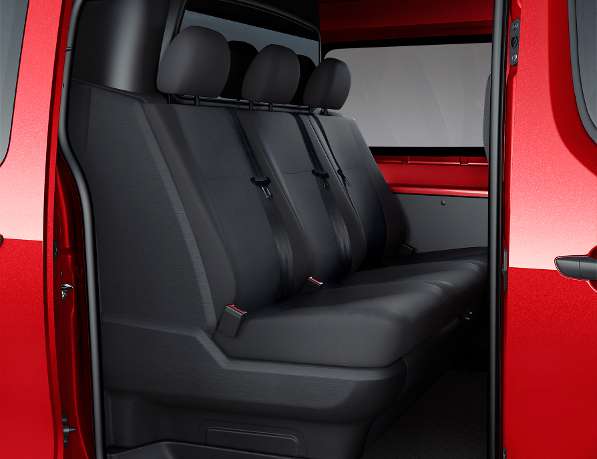 UP TO 6 PEOPLE ON BOARD
There's no longer the need to choose between passenger and load space: Crew Cab* versions can accommodate up to 6 people while offering a loading space of up to 4 m3. The space under the passenger bench allows the transportation of long objects up to 2.40 m.
With the Enterprise and Enterprise plus crew van*, passengers in the 2nd row enjoy great comfort and a large storage space of 73 litres under the seats.
* Available on M and XL lengths.
DISCOVER DISPATCH COMBI
Citroën Dispatch Combi is ideal for workers on the move. It can accommodate up to 9 people and their luggage - from the compact XS up to the XL.
AN IRREPROACHABLE OUTDOOR DESIGN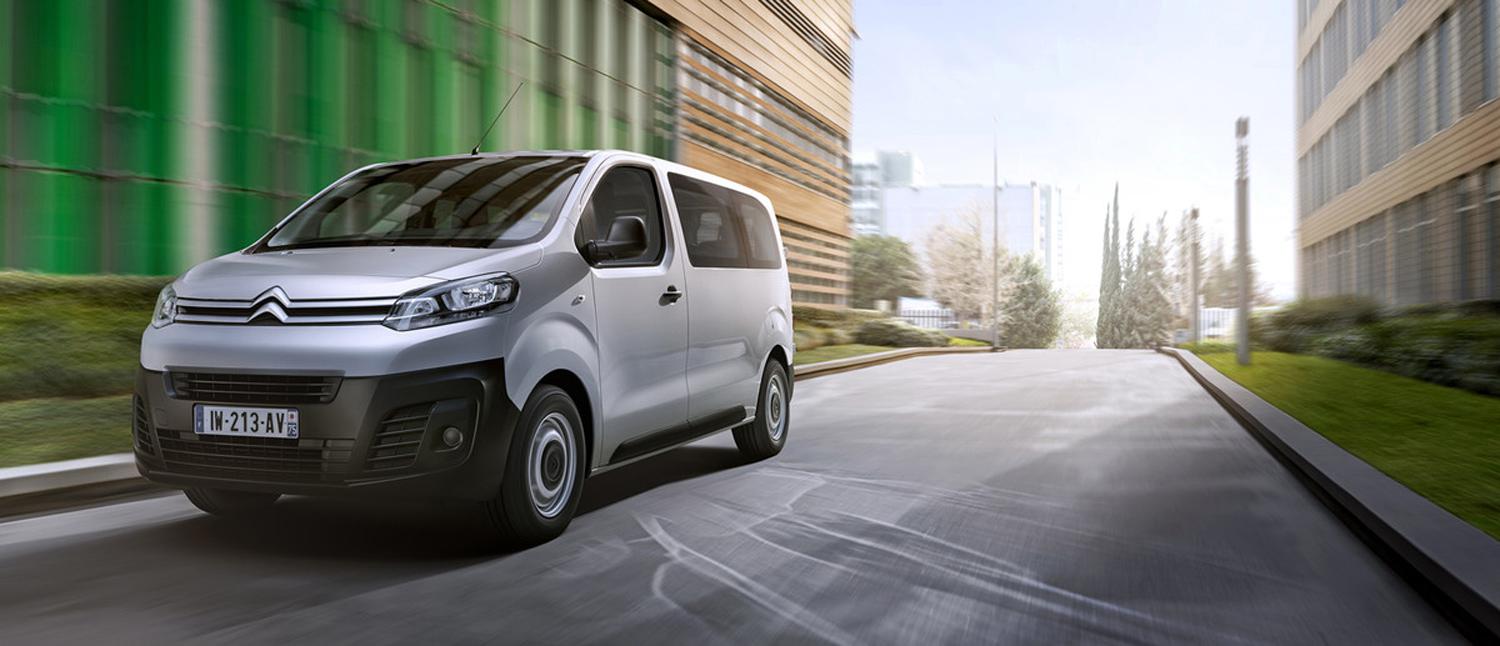 Like the van, this version of Citroën Dispatch, dedicated to transporting people, demonstrates the Citroën design ethos. This is evident in the distinctive radiator grille and Marque signature; from the chevrons to the cool design of the lights.
The front has an imposing, confident presence. It incorporates black air intake grilles that contrast and accentuate the rugged style of the Dispatch Combi.
UP TO 8 PASSENGERS!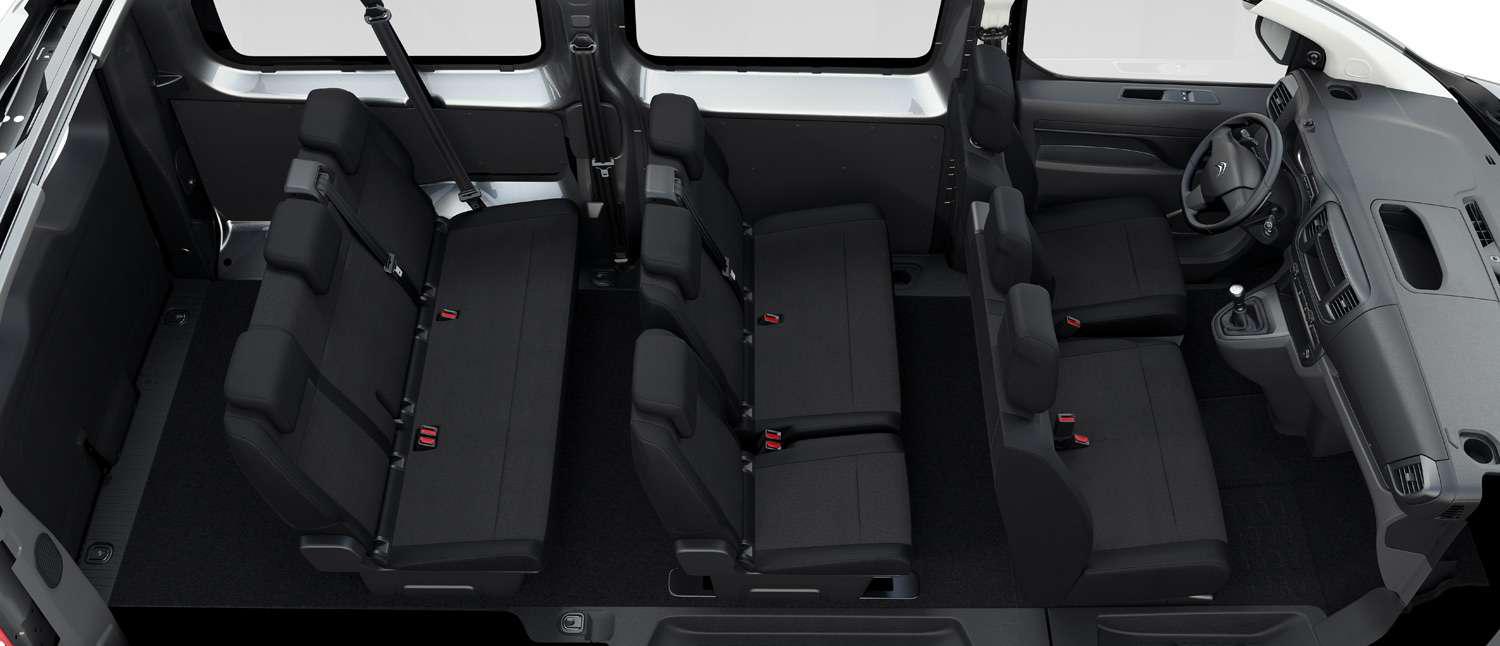 Robust and functional, Citroën Dispatch Combi offers a variety of seating configurations. All rear seats* can be removed to give 4.50 m3 of load volume in the XS version and up to 6 m3 in the XL. To facilitate access to the 3rd row, 2nd row seats can be folded with a simple action, freeing up access.
* Optional
USEFUL TECHNOLOGY AND FEATURES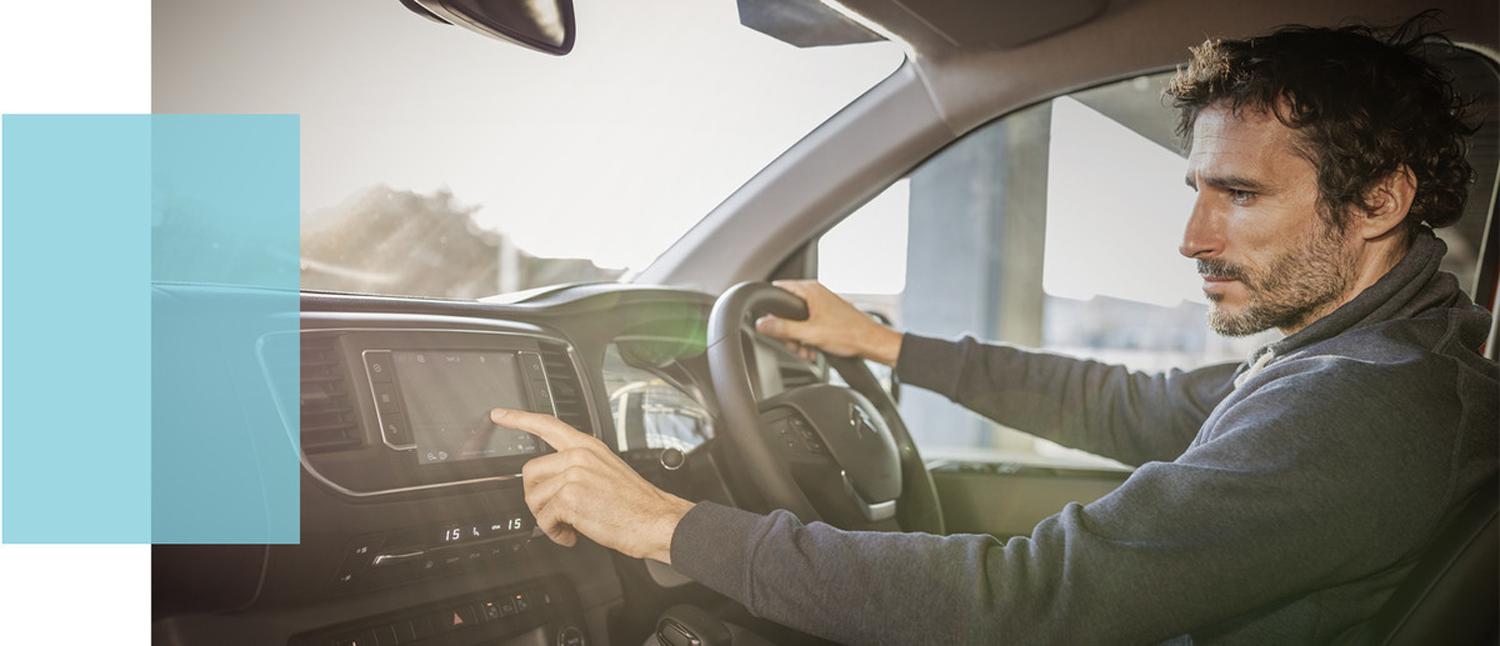 Citroën Dispatch also means relaxed, easy and safe driving. As well as the useful every day functions such as keyless entry and start, ignition and sliding side doors, Citroën Dispatch also offers technology to facilitate your journeys.
EVERYTHING DESIGNED FOR YOUR SAFETY
AUTOMATIC SWITCHING OF HIGH BEAM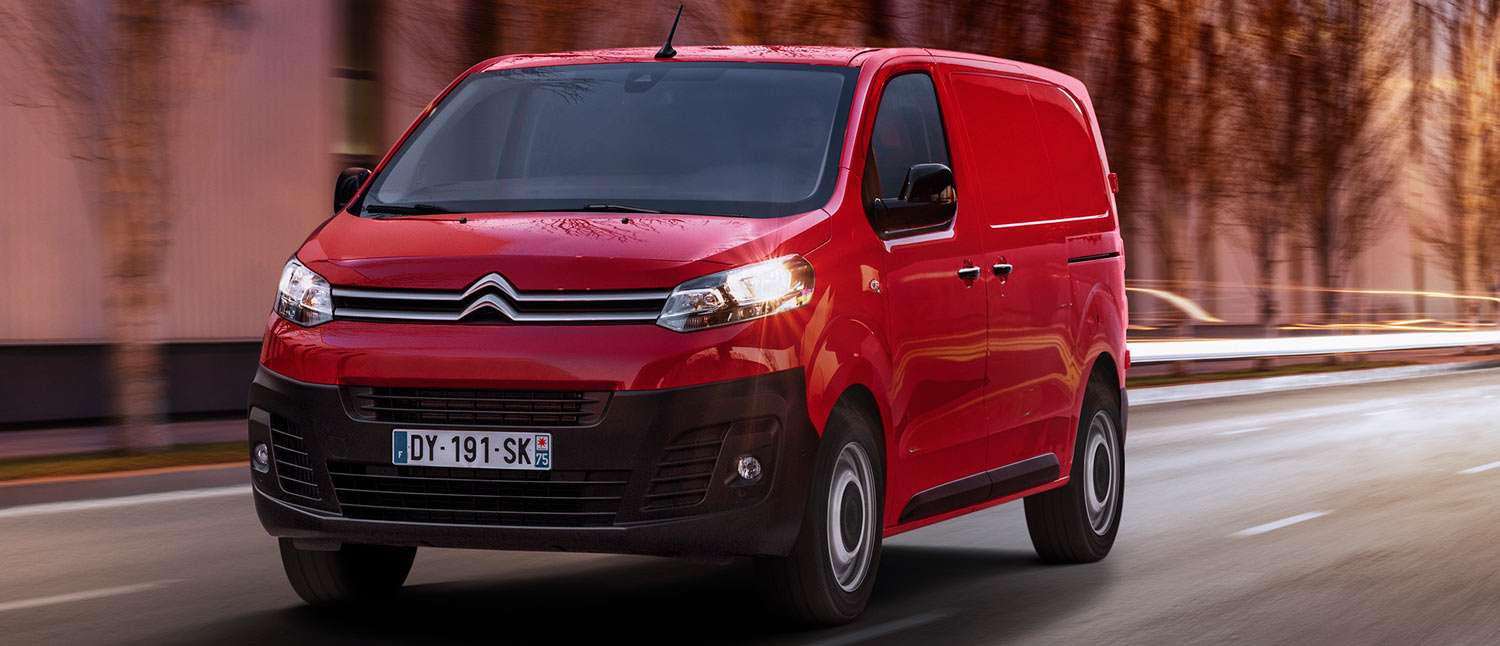 Dispatch actively switches from main beam to dipped beam according to traffic, when oncoming cars are detected. The system is active at night from speeds above 15 mph and switches off below 9mph.
SPEED SIGN RECOGNITION AND RECOMMENDATION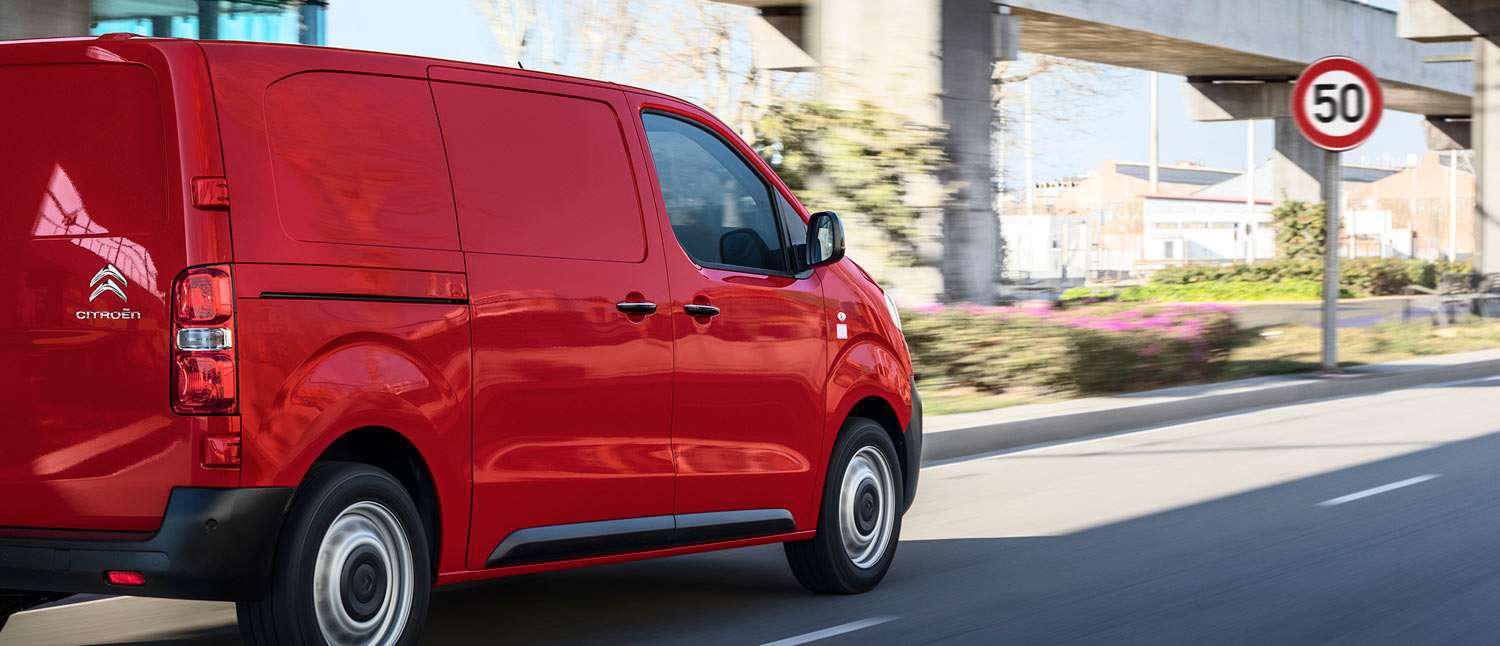 A real innovation, this system works using the camera at the top of the windscreen. At all times, it provides the driver with information on the current speed limit. When a speed limit sign is detected, you can accept the recommended speed with the press of a button.
DRIVER ATTENTION ALERT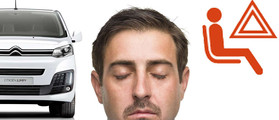 A real innovation, this system works using the camera at the top of the windscreen. At all times, it provides the driver with information on the current speed limit. When a speed limit sign is detected, you can accept the recommended speed with the press of a button.
INVOLUNTARY LINE CROSSING ALERT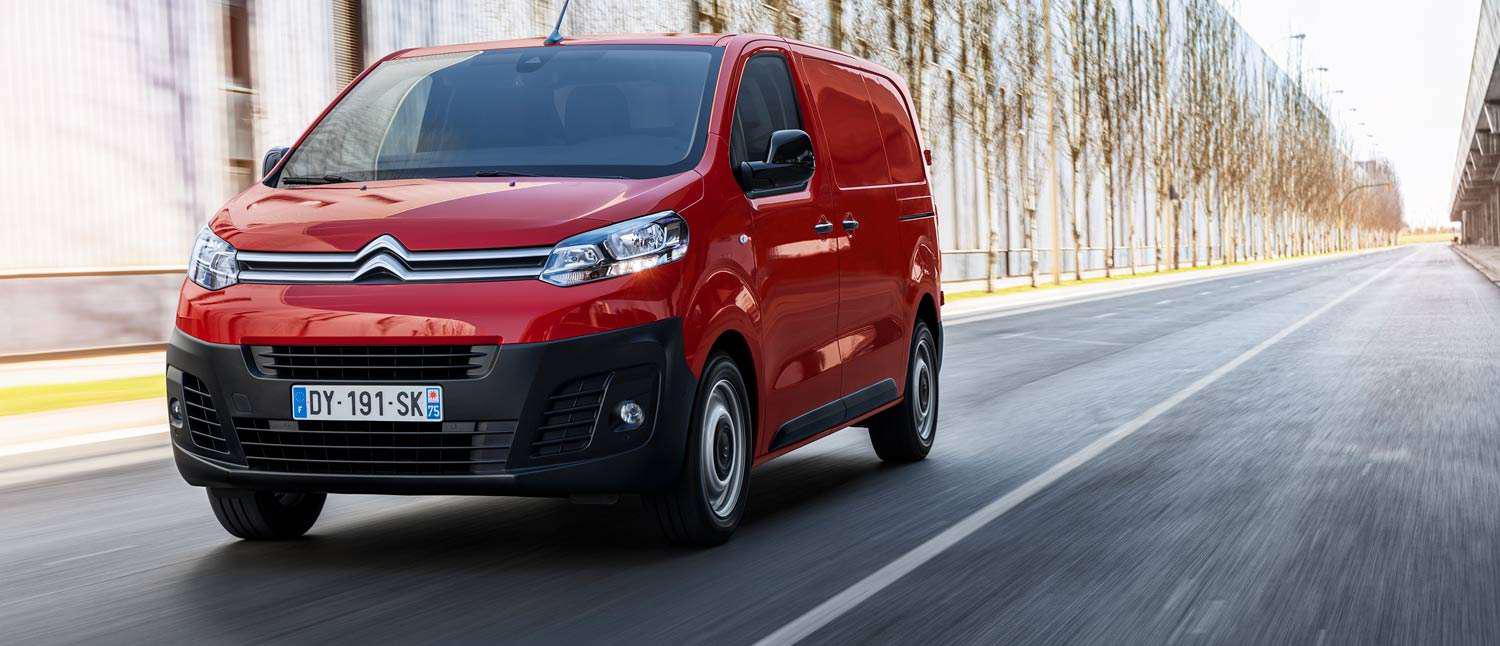 It warns the driver when the car crosses a line without the indicator being activated. The system detects unintentional crossing of a marked line on the ground (continuous or dotted) and alerts the driver with audible and visual alerts.
HEAD-UP DISPLAY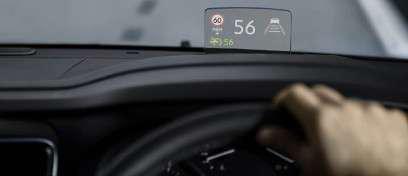 This feature allows you to keep your eyes on the road while, in your field of view, on a transparent screen, essential driving information is displayed (current and recommended speed, cruise control / speed limiter level, navigation instructions and collision risk alerts).
Unprecedented specification for a vehicle in this segment!
ADAPTIVE SPEED LIMITER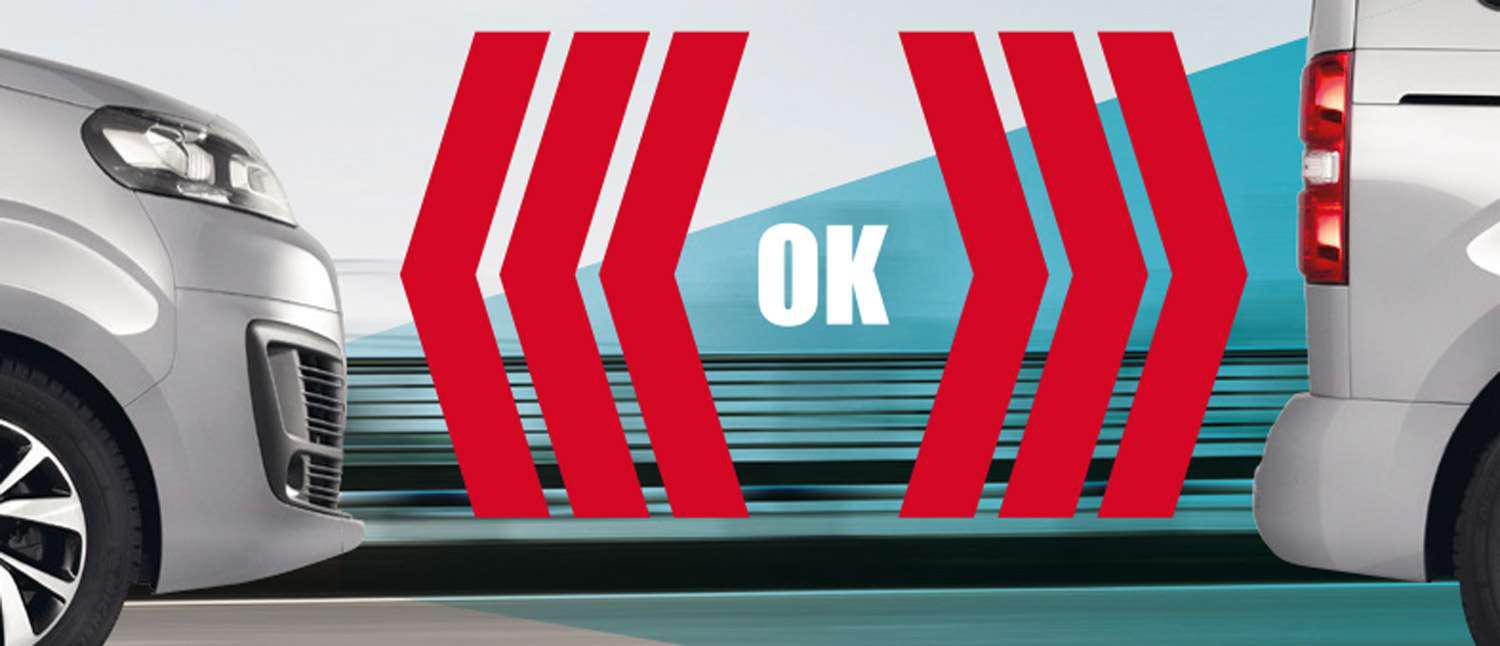 The adaptive speed limiter allows you to adjust the vehicle's speed to the speed of the vehicle in front. The automatic control system is able to reduce the speed by 20 km / h, using the accelerator alone.
ACTIVE SAFETY BRAKE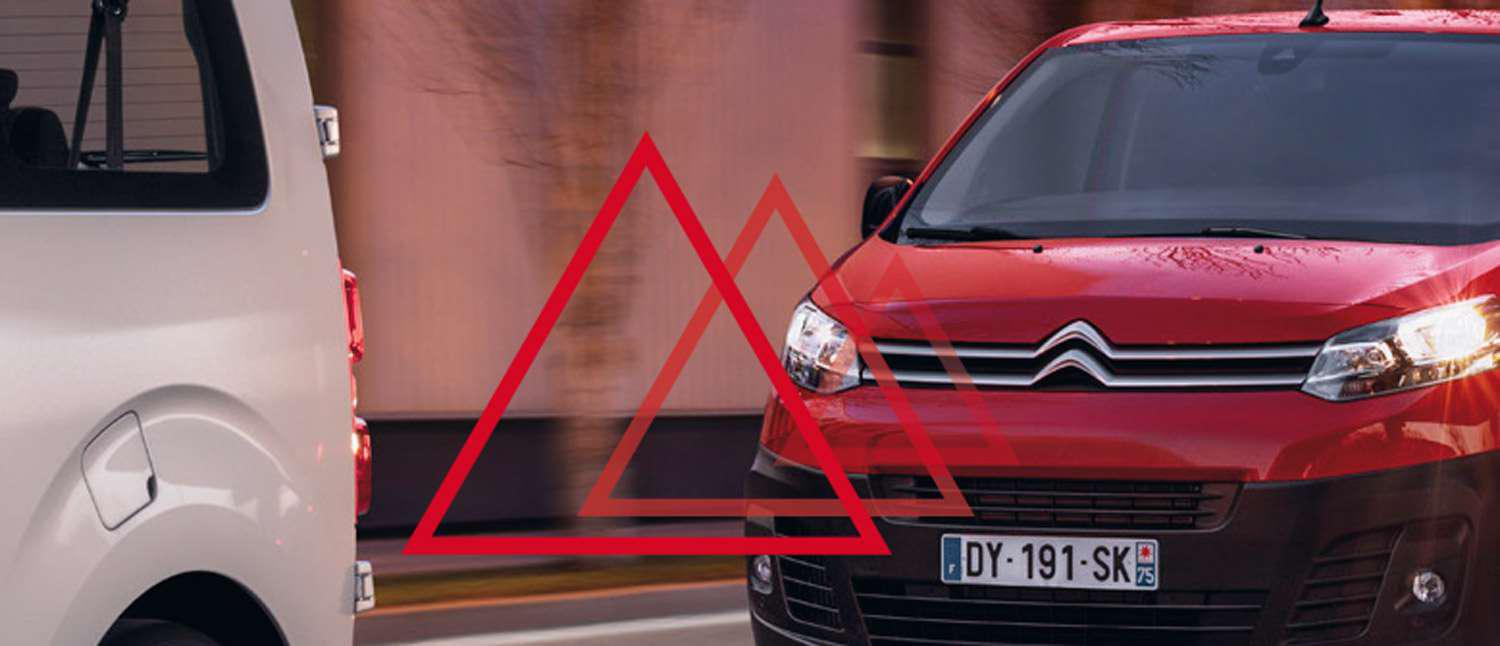 This aims to reduce bodily injury by braking instead of the driver thanks to the multifunction camera at the top of the windscreen, in the following situations:
Between 0-30 km / h, it avoids collision with mobile or fixed obstacles or pedestrians.
Above 30 km / h, it reduces speed before impact.
BLIND SPOT MONITORING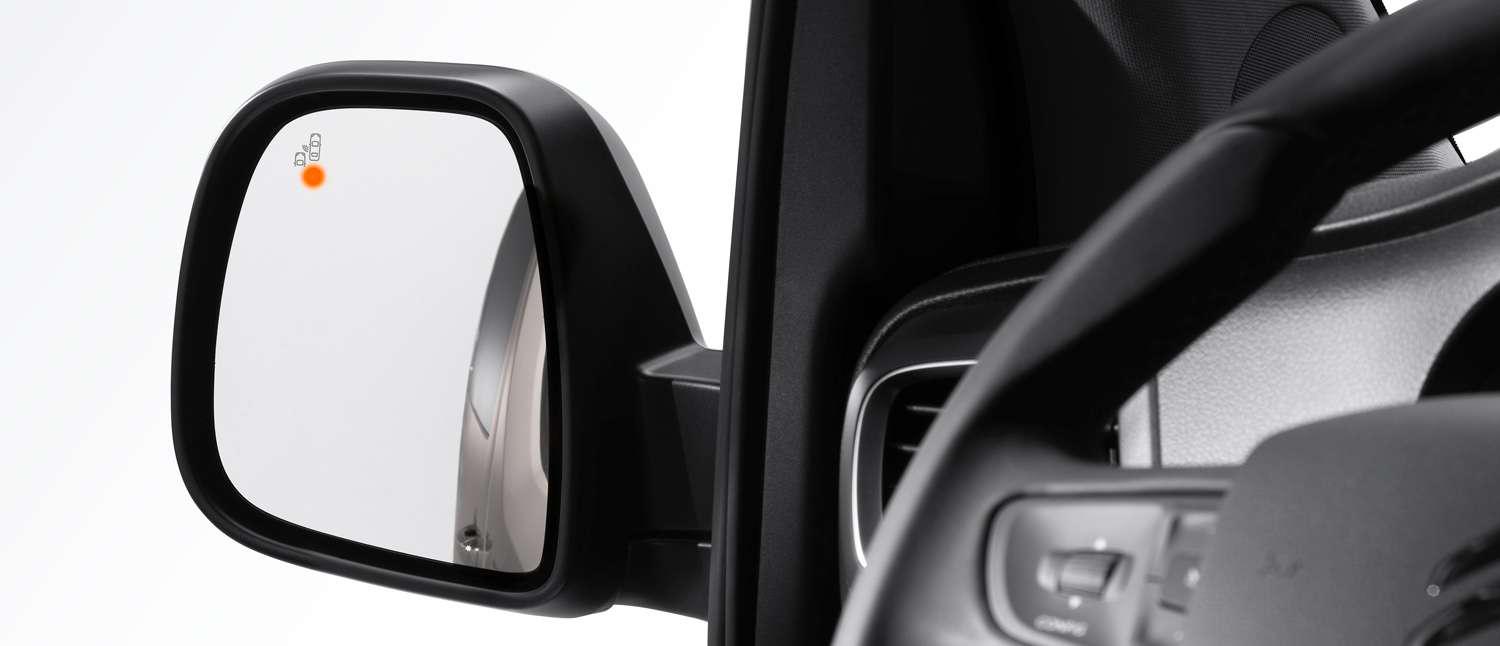 The Blind-spot monitoring system tells you when there is a vehicle in blind spots via an orange diode positioned in the corner of the rear-view mirror. Composed of four sensors in the front and rear bumpers, this system is active between 12 and 140 km / h.
PERFORMANCE AND ECO-EFFICIENCY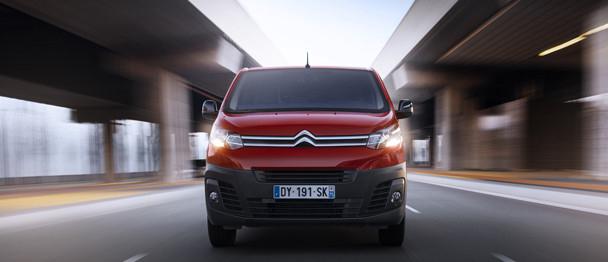 Citroën Dispatch offers engines from 95 to 180 hp, all equipped with BlueHDi technology. This new generation of Euro 6 BlueHDi diesel engines offers "Best in Class" levels of consumption and CO2 emissions in the segment (BlueHDi 115 S & S BVM6: 5.1 l / 100 km and 133 g of CO2 / km.) and minimised running costs.
Disclaimer
While every effort is made to ensure the accuracy of the information on this website errors may occur. It is the responsibly of the customer to confirm exact specification at point of sale. * All vehicles subject to a £199 Admin Fee.
Please check with us any details which you feel may affect the viewing or purchase of any vehicles listed on this website. All images are for illustration purposes only.
Vehicle subject to terms and conditions, click here for our buying proposition.
Palmers (St Albans) Limited is an Appointed Representative of Automotive Compliance Ltd, which is authorised and regulated by the Financial Conduct Authority (FCA No 497010). Automotive Compliance Ltd's permissions as a Principal Firm allows Palmers (St Albans) Limited to act as a credit broker, not as a lender, for the introduction to a limited number of finance providers and to act as an agent on behalf of the insurer for insurance distribution activities only.
WATFORD
---
PEUGEOT & CITROEN
24 Greenhill Crescent,
Watford Business Park,
Watford,
Hertfordshire,
WD18 8XN
HEMEL HEMPSTEAD
---
ALFA ROMEO, JEEP, FIAT & ABARTH
Pennine Way,
Redbourn Road,
Hemel Hempstead,
Hertfordshire,
HP2 7AZ
MITSUBISHI
Pennine Way,
Redbourn Road,
Hemel Hempstead,
Hertfordshire,
HP2 7AZ
MG
Pennine Way,
Redbourn Road,
Hemel Hempstead,
Hertfordshire,
HP2 7AZ