PEUGEOT
All New e 208
All new e 208 Allure Electric 50 kWh 136
NO COMPANY CAR TAX
Vehicle Finance
Contract Hire Finance Example*
36 months
Duration of Contract
£299.00
Followed by 35 Payments of
Finance Terms & Conditions
Promotion available on new PEUGEOT All New 208 Electric models. Deposit Contribution only available in conjunction with Peugeot Financial Services. With Peugeot Financial Services you have the option to return the vehicle and not pay the final payment, subject to the vehicle not having exceeded an agreed annual mileage (a charge of 6p per mile for exceeding 0 miles per annum in this example) and being in good condition. Finance subject to status. Guarantees may be required. Terms and Conditions apply. We work with a number of creditors including Peugeot Financial Services. Quadrant House, Princess Way, Redhill, RH1 1QA
Personal Contract Hire*
48 months
Duration of Contract
£354.00
Followed by 47 Payments of
Finance Terms & Conditions
Promotion available on new PEUGEOT All New 208 Electric models. Deposit Contribution only available in conjunction with Peugeot Financial Services. With Peugeot Financial Services you have the option to return the vehicle and not pay the final payment, subject to the vehicle not having exceeded an agreed annual mileage (a charge of 6p per mile for exceeding 0 miles per annum in this example) and being in good condition. Finance subject to status. Guarantees may be required. Terms and Conditions apply. We work with a number of creditors including Peugeot Financial Services. Quadrant House, Princess Way, Redhill, RH1 1QA
PEUGEOT All New e 208 Details
ADVANTAGES
ELECTRIC ENGINE
217 miles

Of range (WLTP)
Driving pleasure
Full electric driving delivers new sensations:
•A smooth drive without vibration
•Sharp acceleration thanks to immediate engine torque
•A silent engine* offering a serene driving experience
•0g CO2 emissions in driving phase
*Take care when driving as other road users may not be accustomed to electric vehicles. All-new PEUGEOT e-208 is fitted with an acoustic vehicle alerting system which operates at speeds below 18mph.
30 min.

To recover 80% range
Save money
Save money thanks to:
•Energy cost lower than fossil fuels
•Low cost of use thanks to reduced maintenance
•Government subsidy of up to £3,500**
•Use of ECO mode
**£3,500 Plug In Car Grant from government included, which must be claimed by your supplying Retailer and is subject to conditions. To find out more about Plug In Grants and the benefits of owning an ultra low emission vehicle, visit www.GoUltraLow.com
0 g/km

CO2 emitted in driving phase
Offering new mobility
Your life will be simplified with the all-new PEUGEOT e-208. This full electric car offers:
•Fast and intuitive charging
•Freedom to drive in the city even those with emission restriction zones
•Mobility pass***: this will build a rental car allowance into your finance agreement, allowing for the simple rental of an internal combustion vehicle for a longer trip when required.
•MYPEUGEOT® application which allows remote management of certain features such as pre-programming of charging and heating and checking the battery charge level.
***Launching in 2020 and available on vehicles funded through PSA Finance UK Ltd. PEUGEOT Motor Company PLC is a credit broker in respect of the finance agreement. We will introduce you to PSA Finance UK Ltd, RH1 1QA, the finance provider.
---
DISTINCTIVE DESIGN
The seductive all-new PEUGEOT e-208 electric car has it all. Its distinctive and exclusive touches embody technology and modernity.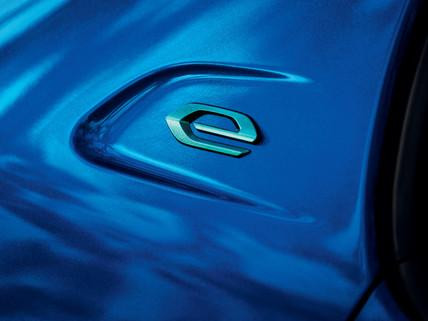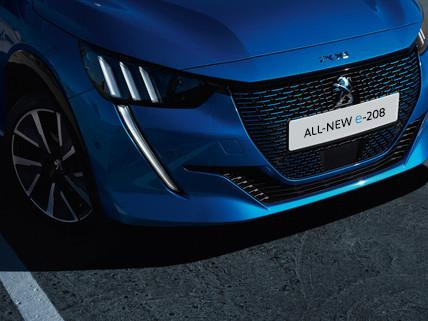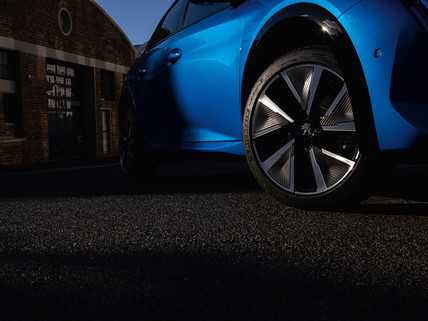 Distinctive style
As quiet as it is flexible and responsive on the road, the seductive all-new PEUGEOT e-208 has it all. Its distinctive and exclusive touches embody technology and modernity: its monogram "e" and the dichroic Lion which changes colour from different angles; body-coloured chequered front grille; gloss black wheel arches; 17" aerodynamic aluminum wheels* and refined upholstery. And, there's absolutely no compromise on interior space or technology for you or your passengers.
*According to version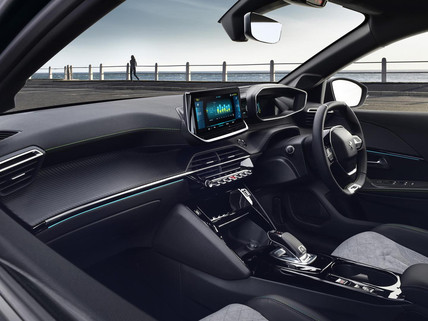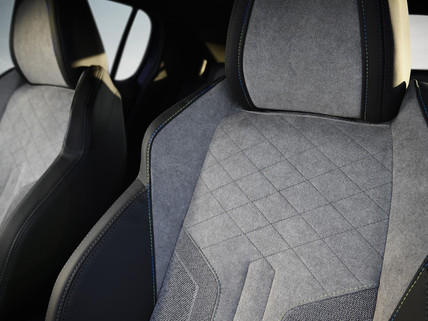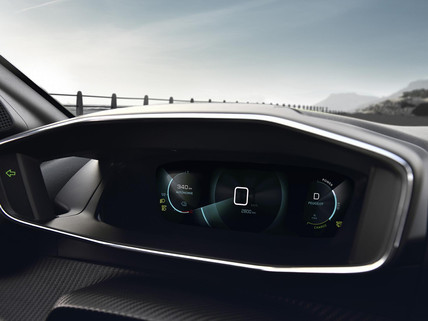 The energising PEUGEOT 3D i-Cockpit®
Information on your driving can be easily accessed through the configurable 3D head-up digital instrument panel* and can also be projected, like a hologram, via the capacitive colour touchscreen. The display incorporates:
•Driving mode: Eco/Normal/Sport
•Battery level
•Animation of specific information illustrating the operation of the powertrain in real time.
*Standard from Allure
New electric motor
The e-208's immediate reactivity (136hp and torque of 260 Nm available from 0mph) offers a serene* driving experience.
*Take care when driving as other road users may not be accustomed to electric vehicles. All-new PEUGEOT e-208 is fitted with an acoustic vehicle alerting system which operates at speeds of below 18 mph.
High-performance battery
The new e-CMP electrified modular platform was developed to incorporate a high-voltage battery with large capacity of 50kWh while preserving space on board and boot volume. The electric car battery has an 8 year warranty or 100,000 miles for 70% of its charge capacity.
*Official Range figures for the all-new PEUGEOT e-208 range are Combined 217 – 194 miles. WLTP cycle, 2019 standard, corresponding to 217 miles WLTP.
DRIVING MODES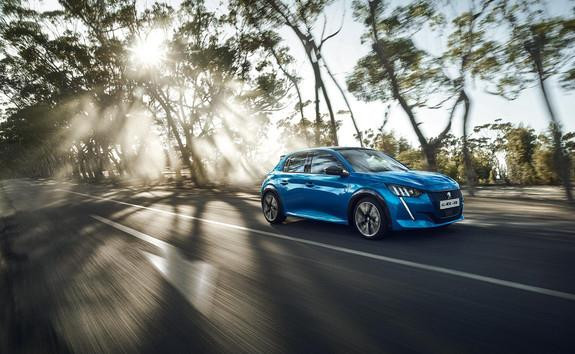 The new PEUGEOT e-208 electric city car offers three driving modes:
•Eco: autonomy optimised by adjusting certain settings
•Normal: optimum comfort for daily use
•Sport: priority to performance and sensations with maximum power and torque (0 to 100 km/h in 8.1s)
BRAKING MODES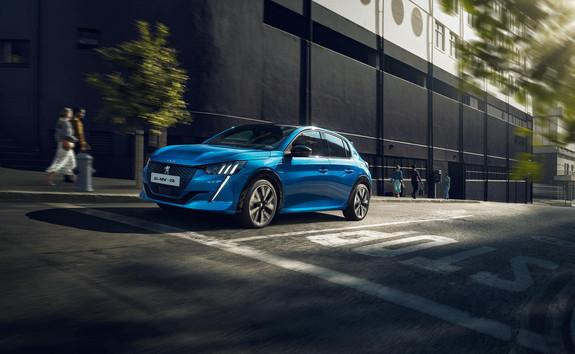 "Brake" mode offers 2 levels of engine braking*, enabling you to charge the battery while decelerating:
•Moderate: for a feel similar to that of an internal combustion engine vehicle
•Increased: for deceleration controlled by the accelerator pedal
*Moderate or increased battery recharging
---
QUICK AND EASY CHARGING
To access the full driving capacity in electric mode (up to 217 miles WLTP*, combined CO2 emissions: 0g in driving phase), several charging solutions are available: at home or at public ev charging stations. The all-new PEUGEOT e-208 offers programmable deferred charging: via the colour touchscreen or through the MYPEUGEOT® App on your phone. This system also lets you start or stop charging at any time and consult the charge status.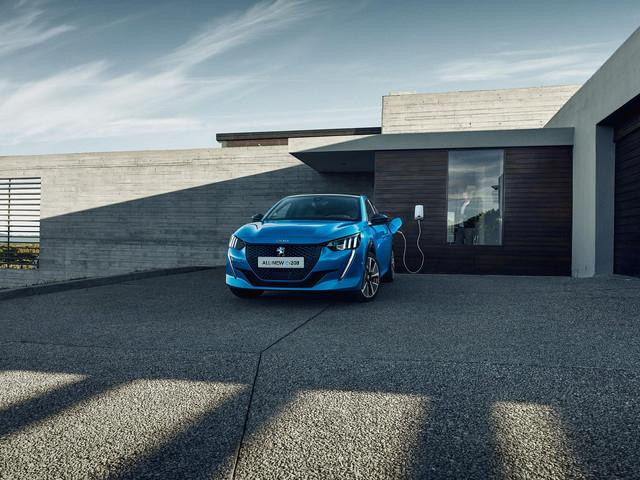 Accelerated charge at home with a Wallbox
Fully charge your all-new e-208 more quickly and safely from a dedicated charging point which takes approximately 7.5 hours (7kW) for a full charge. Government subsidies in the UK are available to support this*. And, we're offering these FREE to customers ordering an all-new e-208! Terms & conditions apply.
Charging from a domestic plug
The all-new e-208 charges using a classic domestic plug in 24 hours for a complete charge. A cable must be purchased as an accessory to facilitate this activity.
*Government subsidies in the UK are available to support this. Visit https://www.gov.uk/government/collections/government-grants-for-low-emission-vehicles#electric-vehicle-homecharge-scheme to discover more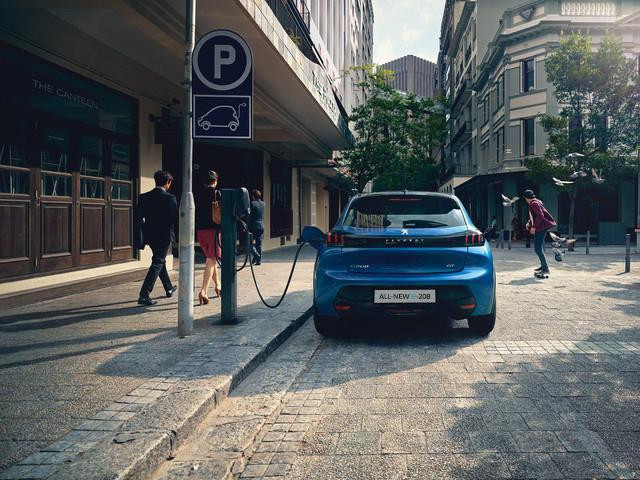 Rapid recharging at a public terminal
You can obtain 80% of the vehicle charge in 30 minutes** from a 100kW charging station. Rapid chargers can be found at most motorway service stations and are being progressively installed across the UK.
**The vehicle will rapid charge at a rate of up to 100kW, depending on the power of the rapid charging station used and will take longer to charge at a lower power. Rapid charging stations are available across the UK at various locations and their power rating varies, typically from 50kW and sometimes up to 350kW. For further information on public charging stations across the UK, please visit www.zap-map.com
---
FREE 6-MONTH POLAR CHARGING SUBSCRIPTION**
Every all-new e-208 comes with a FREE 6-month charging subscription** through POLAR, the UK's largest and best performing public charge network operated by BP Chargemaster.
**Customers are required to provide credit/debit card details to their account when signing up, for any electricity used to be charged to. £7.85 per month payable after the first 6 months for ongoing subscription. Existing POLAR subscribers can still benefit by contacting the POLAR help-desk to receive 6 months credit applied to their account. Offer available in conjunction with all other Retail offers. One claim per person per vehicle purchase. Offer not transferable and no cash alternative. PEUGEOT Motor Company reserve the right to amend or withdraw the offer at any time without prior notice.
Disclaimer
While every effort is made to ensure the accuracy of the information on this website errors may occur. It is the responsibly of the customer to confirm exact specification at point of sale. * All vehicles subject to a £199 Admin Fee.
Please check with us any details which you feel may affect the viewing or purchase of any vehicles listed on this website. All images are for illustration purposes only.
Vehicle subject to terms and conditions, click here for our buying proposition.
Palmers (St Albans) Limited is an Appointed Representative of Automotive Compliance Ltd, which is authorised and regulated by the Financial Conduct Authority (FCA No 497010). Automotive Compliance Ltd's permissions as a Principal Firm allows Palmers (St Albans) Limited to act as a credit broker, not as a lender, for the introduction to a limited number of finance providers and to act as an agent on behalf of the insurer for insurance distribution activities only.